What did we achieve in 10 years?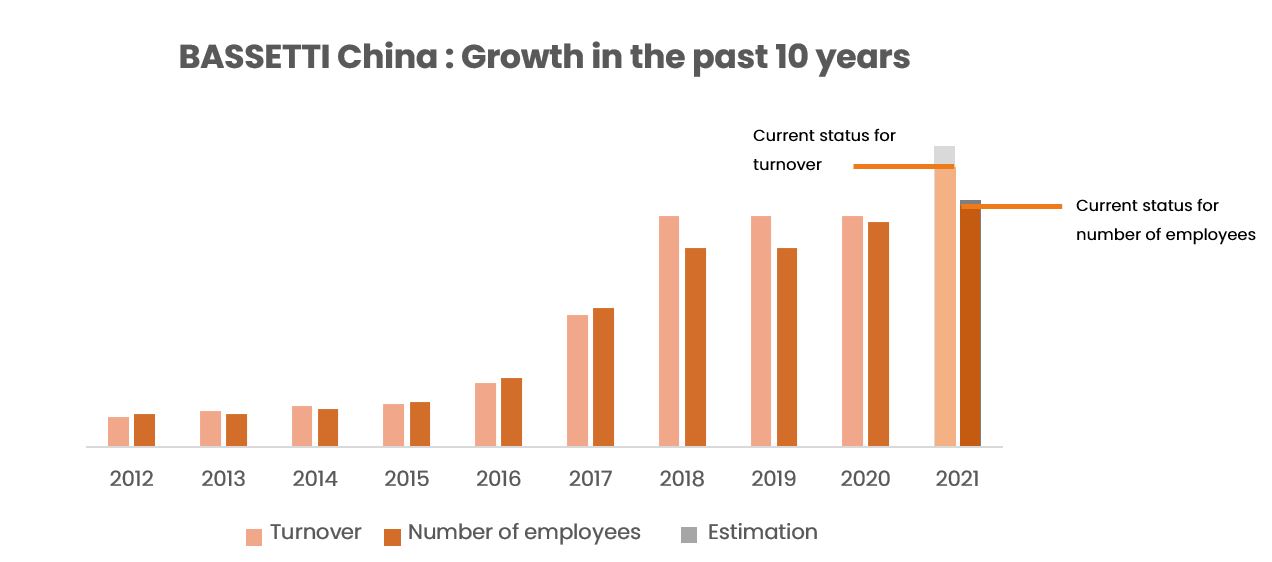 BASSETTI CHINA has come a long way since its grand opening 10 years ago, and we give much credit to the amazing employees we call family. The trend in the turnover and number of employees at BASSETTI CHINA has consistently been positive. Compared to 2012, those numbers have increased manifold by 2021. We are really excited to see that our tightly knit family continues to grow!
Timeline
---
It was not long after the BASSETI Group opened up to the international market in 2008 that BASSETTI CHINA became both the first subsidiary of the BASSETTI Group and the first office located in China. Its first office was in the city of Shanghai in 2011. In 2018, BASSETTI Group's second office was set up in Guangzhou and more recently this year, we opened a new office running in Beijing. Our goal is to triple our expansion in the next five years so that we can extend our SMART software solutions, talents, and R&D financial consulting support services to clients countrywide. You can expect us to be stationed in myriad cities in the years to come!
10 years Bassetti China Accomplishments
---

Since BASSETTI CHINA's inception in 2011, we have been accompanied by our trusty and dedicated family of employees. Together, we achieved a 43% growth in the last 5 years, collaborated with 100+ satisfied clients in China, and successfully completed over 350 projects to date. We are proud of and sincerely appreciate having a team of skilled employees that work tirelessly to help BASSETTI CHINA get to where it is now.
Our pool of technical engineers, with their extensive knowledge and expertise in the Automotive, Transportation, Healthcare, Energy, and Electronics industries, has propelled our company forward in the past 10 years. Our opportunities are far from limited, and we will always strive for consistency and excellence in anything we do.